Jersey bus drivers to meet new bus company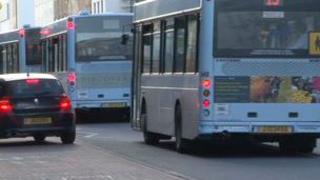 Bus drivers in Jersey have agreed to meet with new operator CT Plus to discuss terms.
Bus workers walked out on Monday over changes to the contracts being offered by the new operator but returned to work on Wednesday.
The company will take over the island's bus service from the current company Connex in January.
Connex, the Unite union and the States met at the mediation service on Tuesday to discuss issues.
David Witherington, from the Jersey Advisory and Conciliation Service, said all parties at the meeting agreed to encourage staff to meet with the new operator on a one-to-one basis over the next 10 days.
He said: "The purpose of these one-to-one meetings is to allow CT Plus representatives to meet with their potential employees, explain the way in which CT Plus intended to work in the Island and to invite all staff to accept contracts of employment with CT Plus under the terms agreed at the mediation meeting."