Jersey Post stamps feature coastal towers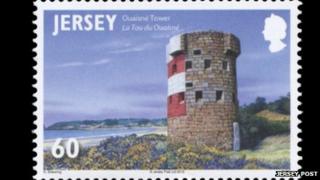 Six Jersey coastal towers have been painted for a new set of stamps.
They were painted by stamp artist Nick Shewring.
The towers were built between 1779 and 1837 to protect Jersey from French invasion after it remained loyal to the English Crown.
Melanie Gouzinis from Jersey Post said: "The history of Jersey's coastal towers reveals the island's defence weaknesses along, particularly, the east, south and west coast in previous centuries."
She added: "Nowadays, some of the towers are painted to assist with navigation for local shipping, some have been integrated into private houses and others were built upon by the Germans during the Occupation of Jersey."
The Jersey Post stamps show Flicquet Tower, Portelet Tower, Ouaisne Tower, Lewis Tower, Noirmont Tower and St Catherine's Tower.