Barge arrives in Jersey for seaweed clearing trial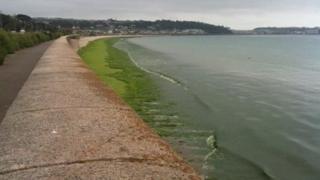 Tonnes of seaweed taken from Jersey's beaches will be dumped off the coast of the island this week.
Martin Gautier, from Transport and Technical Services said the department, was testing new ways of disposing of the sea lettuce which covered Jersey's south coast this summer.
Earlier this year trucks were used to move the green slime off St Aubin's Bay with limited success.
It had cost more than £21,000 to shift the seaweed so far this year.
At the moment sea lettuce is tipped into the sea at the low water mark but it washes back on to the beach.
Mr Gautier hopes next year will be different by using the barge to drop the seaweed out at sea.
He said: "We are actually about to do a trial in conjunction with Ports of Jersey, the Environment department and contractors doing the dredging in St Aubin's Harbour.
"A barge arrived in the island yesterday to see how it (the seaweed) disperses in the sea."