Jersey's tunnel resurfacing work to start on Tuesday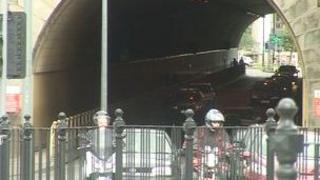 Work to strengthen and resurface Jersey's road tunnel begins on Tuesday.
The tunnel runs from La Route de la Liberation to Green Street roundabout in St Helier.
It will be closed to traffic and pedestrians overnight on weekdays until the beginning of December.
A spokesman for Transport and Technical Services said the railings at the eastern end of the tunnel would be replaced and the traffic island at the western end would be updated.
A small island is due to be installed in the bus lay-by at the western end to improve safety for pedestrians using the zebra crossing.
The tunnel was last resurfaced in 1986.
Pallot Tarmac Limited won the £260,000 contract for the work after a tender process.
The spokesman said: "As the road is narrow, both sides of the carriageway will need to be resurfaced and strengthened at the same time and the whole road will have to be closed to through traffic.
"To minimise disruption to road users, the works will be undertaken during the evening."
The tunnel will be closed from 18:45 to 06:00 GMT on weekday evenings and diversions will be in place.