Liberty Wharf 'needs more signs and better lighting'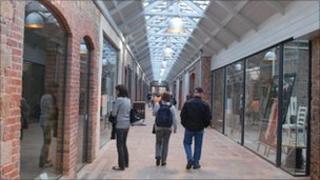 There are calls to have more signs and better lighting on the outside of the Jersey shopping centre Liberty Wharf.
Tony O'Neill from Sandpiper, which runs five shops in the St Helier shopping centre, said businesses would benefit from better signage.
He said: "Here we are two years later and we still have no signage over the shopping centre."
Liberty Wharf manager, Simon Tinley, said there were plans for a new sign and to light the facade.
He said: "The signage is certainly an issue we are working on closely with the planning department.
"It is a very very sensitive site so we are very limited to what we can and can't do."
The former abattoir opened as a shopping centre two years ago during the recession.
'Looks closed'
Mr O'Neill added: "This is a very attractive retail development with a nice ambience and you don't want garish signs to damage that.
"But what you want is a balance between attracting consumers in, but not damaging the overall profile of the development."
Martin Sayers, who runs Mimosa restaurant and bar in the centre, said it was a big issue at night.
He said: "There's very little lighting in Liberation Square and there's absolutely zero lighting in the mall.
"It's very difficult for people walking by the Weighbridge because it looks closed all the time."
Mr Tinley, said two thirds of the units had now been filled and he thought it would be full of shops by next year.