Jersey government offers loan for house deposit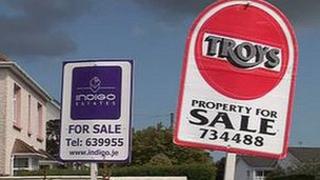 Some first time buyers in Jersey will be able to borrow the deposit for a house from the government interest free as part of a trial scheme.
Housing Minister, Deputy Andrew Green, said it would help support "hard working, frugal islanders".
The loans will be available to people who have saved 5% of the deposit and are first time buyers.
Deputy Green said the £3m trial would be able to help up to 100 islanders get on to the housing ladder.
'Decent home standards'
The Treasury and Resources Minister, Senator Philip Ozouf, said: "I am very pleased to be able to support this pilot scheme, which starts to tackle the challenges in house price affordability that have been highlighted in recent statistics.
"We will be assessing the effects of this pilot scheme as we develop a range of policies over the coming 12 months to support home ownership and decent home standards."
The average price of a two bedroom flat in Jersey is about £330,000 and a three bedroom house is £494,000.
The loan scheme will be open to buyers who have saved 5% of the deposit towards a property, giving them another 15% of the cost as an interest free loan.
People using the scheme will need to purchase a house that is suitable for their needs, so a couple could only use it towards a two bedroom property.
The maximum loan is £61,500 towards a three bedroom house.
The scheme will be debated by the States early in 2013.