Gorey Pier homes plan in Jersey rejected by minister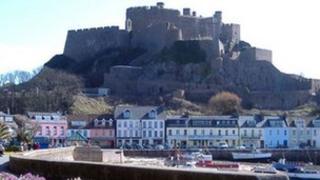 A plan to build new homes on Gorey Pier in Jersey has been rejected after more than 350 people objected.
Standing in the shadow of Gorey Castle, the pier is home to a variety of restaurants, shops and cafes.
States-owned Jersey Property Holdings wanted to replace two shops with three townhouses.
Planning Minister Deputy Rob Duhamel refused to give developers planning permission because of concerns it could damage the character of the area.
Property Holdings applied to demolish the Gorey Boat Yard and Old Sail Loft boutique, replacing them with three three-bedroom town houses with terraces and garages.
Brigitte Beard, manager of the Old Sail Loft, campaigned against the project saying it would spoil the appeal of the pier.