Jersey's Plemont States purchase debate to continue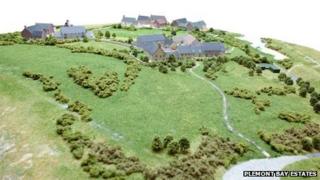 A Jersey States debate on whether to buy Plemont and return it to nature will continue on Wednesday.
The Chief Minister will discuss whether the National Trust (NT) for Jersey could pay the States back in full.
Senator Ian Gorst has asked the States to use taxpayers money to buy the former holiday site and sell it on to NT for £2m.
Politicians rejected an amendment from Deputy Jeremy Macon to give the NT 50 years to pay it back.
The States are yet to decide whether to go with Deputy Geoff Southern's amendment to give the trust 10 years to pay the States back for the land.
The latest government-commissioned valuation said the land at Plemont was worth £4m, but the architect representing the owners said the site was worth about £14m.
Assistant Chief Minister, Senator Sir Philip Bailhache, gave the main speech in the debate because Senator Gorst said he was a member of the NT for Jersey.
Senator Bailhache is a member too, but the proposition was not in his name.
The chief minister's proposal said if a fair and proper price could not be agreed between the States and the owner, the land should be bought by compulsory purchase.
On Wednesday, members will also debate Deputy Gerard Baudains' amendment to set a limit on what the States spends to £8m and rule out compulsory purchase.
The current owner Plemont Bay Estates was given planning permission from the planning minister to build 28 homes on the site and agreed to leave two thirds of it to nature.