EU compensation rules to cover Channel Island ferries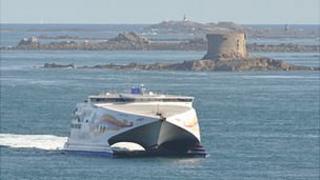 Ferry passengers travelling between Jersey and Guernsey who are delayed or have their sailings cancelled could be entitled to compensation.
New EU rules came into force on 18 December affecting ferry journeys which start or finish in the UK and France.
Jersey and Guernsey's governments have signed an agreement with Condor Ferries so the rules also apply to inter-island journeys.
The rules are similar to those which already exist for air travel.
Even though EU rules do not have to be enforced in the islands, the authorities and ferry companies said they would follow them.
The rules guarantee refunds or re-routing if a ferry service is cancelled, as well as basic food and drink for stranded passengers and accommodation if necessary.
However, passengers affected by delays or cancellations caused by the weather are not covered.
Ferry operators using Channel Island ports have to comply with the rules or face fines of up to £5,000.