Jersey homes protected from flood damage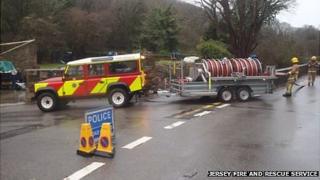 Water has been pumped away to protect houses in Jersey from serious flooding after heavy rain.
Some water entered houses at Tesson Mill, in St Peter, and in Trinity and St Brelade after streams overflowed.
Clive Russell, from the fire service, said: "The countryside reached its capacity and even the smallest amount of rain brings some problems."
He said the island's geography helped the water to drain away quickly: "It's shaped like a wedge."