Jersey sees 'unprecedented number' of rare bitterns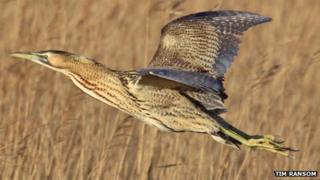 A mild winter in Jersey has attracted an "unprecedented number" of rare birds, according to wildlife experts.
A spokeswoman for the National Trust for Jersey said there had been sightings of up to five bitterns around St Ouen's Pond.
Cristina Sellares said until now the highest number caught on camera was two bitterns at the pond, two winters ago.
The shy birds, which are part of the heron family, have a streaky brown plumage and eat fish and frogs.
Miss Sellares, from the trust's lands team, said bad weather in the UK and northern Europe had encouraged the bitterns to spend a couple of weeks in Jersey, where the weather was milder.
She said: "Going from seeing none or one bittern at a time to seeing three to five bitterns for two weeks in a row is a significant increase, we believe.
"Whether this observation reflects a change in the wintering population trend or just a one-off because of present weather conditions, only time will tell."
'Staying longer'
She said it was likely the bitterns were using the reed beds for shelter and to find food.
Miss Sellares said there were no records of bitterns breeding in Jersey but the number coming to Jersey's reed beds from Europe was increasing and some birds were staying longer each year.
The bittern is one of the rarest birds in the UK, with only 75 breeding males found in the last nationwide count.
Miss Sellares said: "We understand that over the weekend a few members of the public had very good views of the bitterns from the hide opposite Big Verns, where the new wetland centre will be built.
"We are delighted to see how the wildlife is responding positively to our management work at the pond."
She said it was hoped, in the not too distant future, a pair of young bitterns would stay for the spring and consider breeding by the pond.