British citizenship test changes in Jersey from April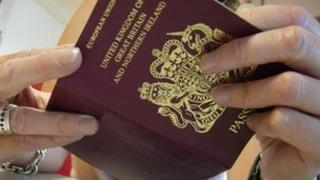 The British citizenship test in Jersey will change from April.
The revised exam will focus less on the practicalities of daily living in Britain and more on the nation's culture and past.
People taking the test in Jersey must answer 24 questions, 18 based from the UK test and six questions on Jersey.
Last year, 122 people of 40 different nationalities, mostly South African, Polish and Indian, applied for naturalisation in Jersey.
Andy Hunt, the assistant director of immigration in Jersey, said the test was very popular in the island last year.
He said in 2012 there were 151 applications for indefinite leave to remain in Jersey, under which applicants take the same test with the aim of being allowed to live permanently in the island, but not become British citizens.
He said the immigration department published a Jersey supplement which contained the information people needed to study to pass the test.
Mr Hunt said: "In conjunction with Highlands College we have agreed the make up of the test in Jersey will change from the 3 April.
"New material from the revised edition of the handbook will be used from that date onwards."