King Edward VII on set of Jersey stamps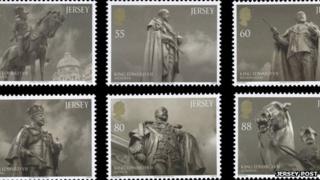 A new set of six stamps featuring statues of King Edward VII have been released by Jersey Post.
They are the first in a series called the "Royal Legacy of Queen Victoria".
Melanie Gouzinis from Jersey Post said they had been created by the design agency behind Royal Mail's Olympic gold medal stamps, True North.
She said the black and white stamps were printed with gold metallic ink which "complements perfectly the grandiose nature of the stamps."
She said Jersey's Battle of Flowers began as a coronation celebration for King Edward VII.
The floral carnival has been going every year since, apart from during the German occupation of the island.
The King acceded to the throne as Edward VII following Queen Victoria's death and was crowned in August 1902.
He had a number of long-term mistresses including the Jersey-born actress Lily Langtry.
Mrs Gouzinis said: "Islanders will frequently drive past the statue of Queen Victoria which currently stands in Victoria Park, overlooking Victoria Avenue.
"In the same way that her name is prevalent in our everyday lives, Jersey has many other royal connections and it is interesting to look into the island's relationships with the Kings and Queens who followed her."
She said True North took photographs of statues throughout the United Kingdom and Toronto, Canada where King Edward opened a park in honour of his mother for use in the designs.