Jersey's Collections Group goes into liquidation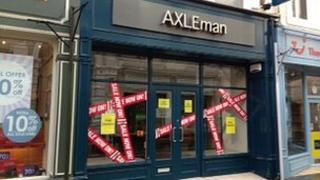 Shops and outlets belonging to Jersey's Collections Group have closed, with the loss of 47 jobs.
The retail chain has appointed insolvency practitioners from Grant Thornton to oversee a "just and equitable winding-up".
Staff from stores, including Pierretoni and Axle Man, met with officers from Social Security on Tuesday evening to discuss their options.
Liquidators said they were working on the possibility of stores reopening.
Alan Roberts and Jamie Toynton of Grant Thornton were appointed joint liquidators of the companies in the Collections Group.
Mr Toynton explained the continued possibility of future trading, despite the appointment of liquidators.
He said: "Jersey has no administration law. We have a creditors' liquidation or désastre process.
"A winding-up can also be ordered on just and equitable grounds and the Jersey court has shown on several occasions - and in the case of the Collections Group - it is able to make an order that enables as far as possible the liquidators to use some of the advantages an administration would give."
Senator Francis Le Gresley, the social security minister, said employees had been given information about the process for claiming insolvency benefit and income support.
He sais: "We've been explaining about the Work Zone and the help we can provide for people in finding new employment, if that is going to be the reality of the situation."
Nobody from the Collections Group was available for comment.