Jersey supermarket plan is 'insensitive' says campaign group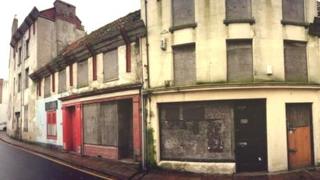 Plans for a major supermarket development in St Helier have been called "appallingly insensitive" by a local campaign group.
The Co-operative society has put forward new plans to redevelop the site in Dumaresq Street after its first proposals were rejected.
Save Jersey Heritage (SJH) wants the old buildings on the site to be preserved, not knocked down.
Co-op said the project would provide much needed jobs.
The planning department rejected the original plans saying they needed to be smaller for it to go ahead.
SJH says the area should be refurbished and restored, not redeveloped.
President Marcus Binney said the shops on Dumaresq Street were in a better condition than 16 New Street which was saved from neglect.
He said: "In Britain an owner who consistently neglects listed buildings would be served with a repairs order.
"Ten years ago the plight of 16 New Street was identical to the Dumaresq Street cottages - boarded up for years, with rain pouring into the building, a change of ownership brought a change of attitude and the building has been beautifully restored by the National Trust.
"Owners who neglect their listed buildings year-in year-out should not be rewarded with large planning permissions. They should offer them for sale on the open market at a price reflecting their condition."
The Co-op says its project will create "a major new gateway into the town centre" and will include a shop, offices, and an underground car park.