Jersey airport faces layout change after display ban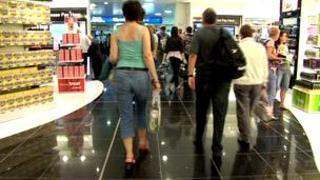 Plans to ban the display of tobacco in shops could mean changing the layout within Jersey airport's departures hall, officials say.
The Health Department wants to restrict the promotion of tobacco to stop underage people taking up smoking.
The World Duty Free Group, which has the largest display of cigarettes in the island, says it will work closely with the Health Department.
The company says it welcomed the changes, which mirror UK rules.
In the UK the company is planning to have closed areas to hide the tobacco from public view when the law comes into force in 2015.
There may be similar changes at Jersey Airport, to avoid tobacco products being seen from outside an enclosed section of the building.
It will come less than four years after a multi-million pound refurbishment.
Health Minister, Deputy Anne Pryke, said research suggested advertising and promotion of tobacco was related to young people taking up smoking.
She wants displays removed from shops, supermarkets and petrol stations within two years.