Jersey's Collections Group is sold to Ashworth and Bird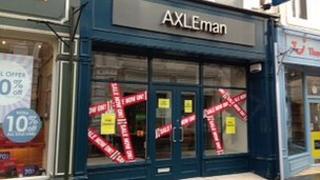 Jersey's Collections Group has been sold to a newly formed company, Ashworth and Bird, meaning 40 staff will still be employed in its stores.
It was announced on Wednesday that the group, which employs 47 staff in seven shops, had gone into liquidation.
However, Jersey law allows for the possibility of selling on liquidated companies as going concerns.
It was confirmed earlier that two of the retail outlets would close, while another would be rebranded.
The Freedom Surf store at Les Quennevais Shopping Precinct will be renamed Freedom Surf and SDS, while the Freedom store on Halkett Street and the Axleman shop on King Street will cease trading.
The announcement of the sale was made in a media release by Richard Clews, the managing director of the former Collections Group and owner of the new firm.
He said: "I fully appreciate that this has been a difficult time for everyone involved, not least for employees of the business who have endured uncertainty and concern for the future".
However, Mr Clews was unavailable to answer questions about the sale, including whether staff were to be employed on the same pay and conditions as before the liquidation and whether the seven lost jobs were full or part-time posts.
'Fantastic news'
Alan Roberts, one of the joint liquidators from Grant Thornton, said: "[We] cannot comment on the sale itself, which remains confidential.
"Time was not on our side and therefore we've had a fairly intensive period of days to cut a deal."
Senator Francis Le Gresley, the social security minister, said: "It's fantastic news."
"Some of these workers have been a long, long time in the retail trade and now there's been a rescue within a week of them hearing their jobs were under threat."