Jersey States discussing local fish quotas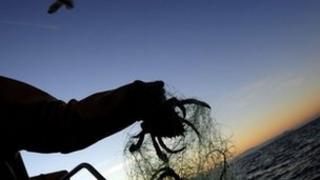 Jersey is to "actively pursue" the local management of its fish stocks, the minister in charge has said.
Jersey currently works to the EU quota system, which restricts what can be caught in island waters.
Deputy Carolyn Labey said the States were launching a consultation into marine resources, including the management of fishing quotas.
She said it was not yet clear whether a change to the quota system would benefit the island's fishing industry.
Part of the Marine Resources Consultation is to include talks with the UK over local stock management.
She said: "Initial discussions with the UK have been positive in respect of allowing the Island to manage quota at a local level, with the intention of ensuring sustainability but increasing fishing profitability.
"This work would be resource hungry and may not be able to deliver any further fishing opportunities to our fishermen than they enjoy under the current system," she said.
Don Thomson, of the Jersey Fisherman's Association, wants fishermen to be able to control their own fishing quotas.
He said: "We have done some research, we are clear that our waters are not European waters and never were.
"It would be no surprise to anyone in Europe if Jersey declared fish stocks in our waters were managed by us in our own way."
Despite not being in the European Union, the island signed up to the EU fish quota system as part of an agreement with the UK over managing local fish stocks.
Ms Labey said that: "We agreed these quotas with the UK in 1996 because they help us manage local stocks and by making this agreement we were able to extend our territorial sea, with all the benefits that has brought."
Mr Thomson said if fishermen were to survive in the island they would need more government support.
He claimed EU quotas had lost the island millions of pounds and had damaged its fishing fleet.
Quotas limit the amount of wet fish - such as cod, bass and ray - boats can catch to protect fish stocks.
Ms Labey said, once the consultation was complete, a strategy would be developed and would need approval at political level.
She said areas being focussed on included helping fishermen with economic modelling, restricting unlicensed fishing and developing markets.