St Helier plan for toilets and offices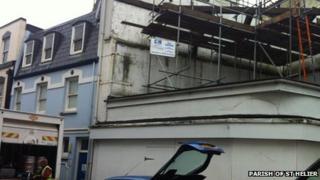 Buildings in part of St Helier, Jersey, could be knocked down to make room for offices and new public toilets.
St Helier authorities have submitted proposals for a £900,000 project to redevelop 3-5 Conway Street.
There are currently toilets at number three Conway street and the parish purchased number five - a former cafe - for £396,000 in 2009.
Parish officials want to knock down the buildings and replace them with modern toilets and an office building.
Number five is currently surrounded by scaffolding and is out of bounds because it is unsafe.
The development would see the toilet building and cafe knocked down and replaced with "modern vandal proof facilities, keeping the ladies, gents and disabled all on the ground floor".
In a report on the project, parish officials said: "The parish continues to pursue a policy wherever possible of combining the refurbishment of its toilet facilities with the addition of revenue-raising opportunities.
"The Conway Street development fulfils this objective by providing a kiosk on ground floor which would be let to a third party to enable newspapers, magazines, lottery tickets and such like items to be sold.
"The rental income will help cover the running costs of the new toilet facility."