Jersey politicians reject 'simple' referendum question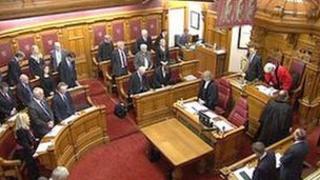 Jersey politicians have rejected a plan to make a referendum question on government reform on the island a "simple" yes or no ballot.
Deputy Geoff Southern proposed one of five amendments to the referendum question.
If no amendments are approved the question will have three options covering the number or politicians and size of constituency.
Deputy Southern's amendment lost by 19 votes to 31.
He wanted the ballot paper to ask "should the States Assembly be reformed so that it is comprised of 42 States Members known as Deputies, elected from six large districts with each district choosing seven Deputies?" with a yes and no tick box.
The other four amendments are due to be proposed by Deputy Trevor Pitman, Deputy James Reed and Senator Lyndon Farnham.
The original referendum proposition sets out three questions including two options for change and one to maintain the status quo.
If agreed, one option for change would have 42 deputies elected from six large voting districts.
The other reform option has 30 deputies and 12 parish constables elected from six districts.
Senator Sir Philip Bailhache, who chaired the Electoral Commission which came up with the referendum questions, said he hoped the States would not make any changes.
The debate continues on Wednesday.