Jersey workers vote to ballot on industrial action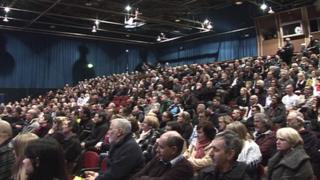 Public sector workers in Jersey backed calls for a ballot on industrial action during a rally.
Hundreds of States staff turned out at Fort Regent on Tuesday to support a campaign to get a better pay deal from the government.
Workers including teachers and civil servants said they were angry over what they claimed was an unfair wage forced upon them.
Chief Minister Senator Ian Gorst said the latest pay deal was final.
The offer was a 1% rise in 2013, a 4% increase in 2014 a 1% lump sum payment.
'Final offer'
Senator Gorst did not attend the rally but insisted that there was no more money available to change the offer already made.
He said: "The economic conditions facing Jersey mean we cannot offer a higher pay award if we are to meet the priorities agreed by members - creating jobs, maintaining employment and investing in health and social services."
Nick Corbel from the union Unite said industrial action might be the only option left to workers.
He said: "I have seen a series of policies and potential strategies that will involve privatisation, redundancies and an erosion of terms and conditions. They intend to implement those changes and not negotiate."
Anne Southern from the National Union of Teachers said workers were angry over what they said was an unfair deal.
Mrs Southern said the government was giving the impression it was untouchable.