Jersey Nurses pay protest sees 300 march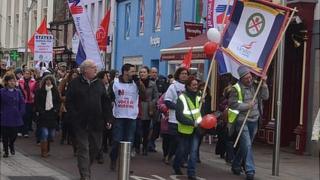 More than 300 people have marched through the streets of Jersey in support of calls for nurses to be offered a better pay deal.
They marched from Howard Davis Park to Parade Park by the General Hospital.
Nurses have been offered a 3% rise in 2013 and a 4% increase in 2014 by the States Employment Board.
But organisers say long-term issues over the equality of pay between nurses and other health professionals need to be addressed.
Kenny McNeil, from the Nurses and Midwives Joint Executive, said after the march: "I think we're getting the message across loud and clear that nurses need to be sorted out now."
One of the nurses who took to the streets told BBC Jersey: "We have to work extra shifts every week to make ends meet."
Another said: "All we want is to be paid equally, we don't want more than what we deserve."
On Friday Senator Ian Gorst, the island's Chief Minister and head of the States Employment Board, said he was examining whether more money could be found for the nurses' pay settlement.