Officers could wear cameras says Jersey's police chief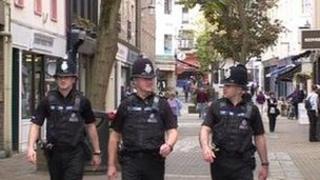 Police officers in Jersey could wear cameras as part of their uniform to record their work in future.
The States of Jersey Police's Chief Officer Mike Bowron said a trial is being run this year.
The idea is part of the States of Jersey policing priorities plan to review and improve the use of technology in tackling crime.
Chief Officer Bowron said the current CCTV system was fitted in 1995 and was "effectively obsolete."
He said the cameras helped provide public reassurance but were "also an essential tool in protecting public safety and security through the effective deployment of police resources."
He said funding had been granted from the Criminal Offences Confiscation Fund and the network of cameras will be replaced and upgraded this year.
Drinking hot spots
Alcohol free zones in St Helier were also mentioned in the policing plan.
Mr Bowron said Jersey should consider introducing the zones to help crack down on nuisance drinking hot spots such as Parade Gardens.
Other projects for the police in 2013 included Operation Crackdown, which focused on career criminals and Operation Amber which would change the way sexual offences are investigated in the wake of the Jimmy Savile scandal.
The plan said police would identify named officers to specifically liaise with the Polish, Eastern European, Portuguese and Gay and Lesbian communities.
The report also said more recruitment was needed as due to the age profile of the States of Jersey Police force, a quarter of officers could retire by the end of 2016.
Jersey's Home Affairs Minister, Senator Ian Le Marquand, said: "The desire to continually improve services, deliver value for money and, most importantly, keep people safe is evident from the stream of new initiatives."