Stroke awareness campaign launched in Jersey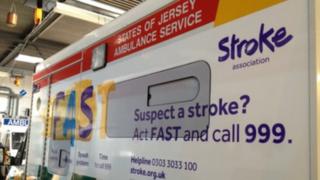 A campaign has been launched to raise awareness of strokes - one of the main causes of adult disability in Jersey.
It is a joint move by Jersey's Ambulance Service and the Stroke Association in Jersey, and has been funded by the charity.
The campaign will include posters on ambulances, banners and information leaflets.
Jersey's health authorities said strokes affected up to 150 islanders each year.
Ian Black, chairman of the Stroke Association in Jersey, said: "Being able to recognise the signs of a stroke is potentially the best thing you could ever do for someone."
A Jersey health department spokesman said a quarter of people who have strokes in the UK are of working age but it can also happen to babies and children.
Richard D'Ulivo Rogers, of Jersey's Ambulance Service, said: "Our vehicles are on the road all day, every day, answering call outs, so we hope this will be a highly visible and useful campaign, which will help islanders spot the signs of a stroke more easily."