Man escapes from car in sea in Jersey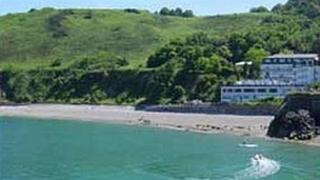 A man had to smash his window to escape after his car ended up in the sea at Bouley Bay in Jersey.
Jersey's emergency services received a call to say a car had gone off the slipway at about 22:45 GMT on Tuesday.
The 50-year-old driver was taken to Jersey's General Hospital after being treated at the scene. He has since been discharged.
Fire station manager Richard Liron said divers searched the car to make sure no-one else was trapped.
He said: "The initial call did include the information that possibly two persons were trapped inside the vehicle so obviously that is a very serious situation and we can't waste any time.
"The coastguard immediately managed to summon the transport and technical services diving team which is an absolute godsend in situations like this."