Archbishop of Canterbury sorry over abuse complaint 'failing'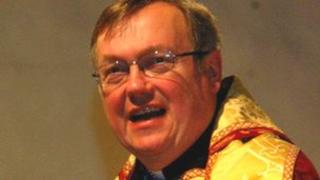 The Archbishop of Canterbury apologised to a woman whose complaint of abuse was apparently not taken seriously enough.
Justin Welby said: "I wish to add my own personal apologies to the young woman who was so badly let down."
Anglican Dean of Jersey, the Very Reverend Bob Key, was suspended over concerns about his handling of the complaint.
The Bishop of Winchester, Tim Dakin, withdrew Mr Key's commission following the publication of a diocesan report.
The Safeguarding Panel found there were failures in the implementation of policies in relation to a complaint by a vulnerable adult parishioner in 2008.
The complaint concerned the alleged abusive behaviour of a churchwarden.
A statement from the diocese said Bishop Dakin would begin an investigation to examine "an apparent failure to take the complaint seriously, a perceived lack of neutrality, poor communication and lack of action".
"I want to give my unreserved apologies to the complainant for her treatment," the bishop said.
'Full co-operation'
In a statement the Archbishop commended the "swift, decisive" action of Bishop Dakin.
He said: "I wholeheartedly support the investigation that the bishop has launched. He must receive full co-operation from all involved.
"We cannot place a high enough importance on safeguarding issues and it is vital that lessons are learned from this case, not just in Jersey but throughout the whole of the Church of England.
"Every day, the vulnerable come to us for shelter, for support and for comfort. Their trust cannot be taken for granted."
Bishop Dakin said he was particularly disappointed the Dean of Jersey had "refused to co-operate with the review".
Mr Key was not available for comment.
It is not yet know if the Dean, who also has a "non-voting" seat in Jersey's parliament, the States of Jersey, will be able to take that seat when it next sits on 19 March.
Michael De La Haye, States Greffe, said: "The States are not meeting again until 19 March and the position should be clearer by then, I am not in a position to comment at present."
The report by the Diocese of Winchester said the BBC in Jersey had been approached by the woman about the issue.
It stated: "In reaction to her sense of getting no adequate response to any of the issues she raised she appealed to the higher authority of the Bishop, to Lambeth Palace, and to the media in the form of BBC Jersey, all to no effect."
A BBC Spokesperson said: "The BBC takes allegations of this nature very seriously. We reported on this story in 2009 and sourced a statement from the Diocese of Winchester at the time, who stated that the relevant authorities were notified."
The States of Jersey Police and Hampshire Constabulary investigated the allegations in 2008 but found there was insufficient evidence to proceed.
The diocese has sent the police a copy of the independent report.