Jersey couple trapped by tree after snow and wind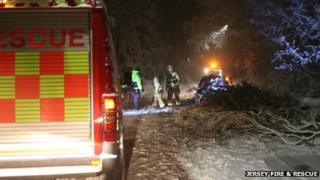 A couple who were trapped under a tree on Monday night at the Railway Walk are being treated in hospital.
The man and woman were injured by a falling tree and rescued by the emergency services and passers-by.
They were trapped on the Railway Walk near St Aubin after heavy snow and winds of up to 65mph hit the island.
Fire crews and staff from the transport department had to saw through trees after the track was blocked by other trees which fell.
Jersey General Hospital officials said the two were in a stable condition. Their injuries are not said to be life threatening.
A number of trees had fallen on Mont Les Vaux and a team from Transport and Technical Services (TTS) arrived with chainsaws to help cut a safe route out.
Mark le Cornu, from the Jersey Fire Service, said it was difficult getting them to the ambulance.
He said: "We had to work with tools and any equipment we could find on the fire engines to cut through and create a route out.
"Luckily, TTS chainsaw gang turned up as well so everybody was mucking in to get the ambulance out and the couple on their way to the hospital.
"In the meantime, a couple of other trees also came down on that hill and we had another five vehicles that were stuck and couldn't come through, we helped them get out and away to safety."