Jersey Airport flights suspended due to snow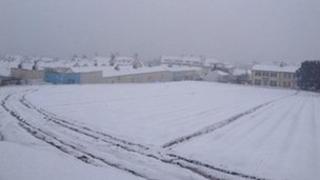 All flights have been suspended at Jersey Airport for the rest of the day because of heavy snow.
The Jersey Met Office has warned of blizzard conditions and said up to 4ins (10cm) of snow is expected to fall.
A Jersey Airport spokesman said the mail and newspapers did arrive earlier, but all flights were now cancelled.
Between 60 and 70 homes in the rural parishes were without electricity after flying debris damaged eight overhead power lines.
Jersey Electricity said engineers were working to repair the cables which affected homes in Trinity, St Lawrence and St Peter.
David Padfield from Jersey Electricity said: "Our engineers will work as fast as possible to repair any problems on our distribution network brought about by the severe weather conditions."
Ferries off
A Jersey Health Department spokeswoman said all non urgent outpatient appointments had been cancelled in the interest of patient safety.
She said elective day case non-urgent admissions will also be cancelled. All appointments will be rebooked as soon as possible.
The Jersey Fire and Rescue Service said it was clearing foot paths around heath care properties to ensure safe access for those who cannot cancel their appointments.
A Fire Service spokesman said the fire volunteer team have been summoned to boost the numbers on duty.
Condor Ferries has cancelled its fast ferry sailings, and some of the island's bus services have also been cancelled or delayed by the weather.
All schools in Jersey have been closed for the day. However, Highlands College was open for students taking exams.
Severe gale force winds meant some trees fell on to roads and fishermen's huts were damaged at Rozel by high wind and waves.
Jersey Police advised people not to travel unless they are confident in the conditions.
Transport and Technical Services have been gritting main roads since the early hours.
Forecaster Mark Le Cornu said severe gale force winds and blizzard conditions are expected to continue throughout the day and overnight, with only a slow improvement expected on Tuesday afternoon.
He said: "A temperature of plus one degrees Celsius as a maximum but when we throw in a wind chill, that equates to minus nine in still air."