Jersey blizzard: Two hundred homes lose electricity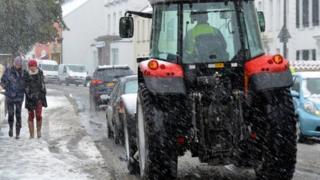 About 200 homes are without power after 20 overhead power lines were damaged in snow storms in Jersey.
Jersey Electricity said the conditions were the worst it had experienced since the Great Storm of 1987.
It said the situation had worsened with homes in St Lawrence, St Peter, Trinity and St Martin affected.
Dozens of trees have fallen in severe gales and blizzard conditions have stopped flights at Jersey Airport, cancelled sailings and closed schools.
Jersey's Education Department has confirmed schools will be closed again on Tuesday "due to the severe weather".
David Padfield, from Jersey Electricity, said: "We feel it is only right that we warn people now that we are unlikely to be able to restore everyone before nightfall."
Forecaster Mark Le Cornu said the last time Jersey had seen such "exceptional conditions" was in January 1979.
He said the red snow warning remained in place with severe gale force winds and blizzard conditions expected to continue throughout the day and overnight, with only a slow improvement expected on Tuesday.
The winds brought down dozens of trees, some blocking roads.
A giant fir tree crashed through the roof of a property on the coast road at Grouville. A mother and two children inside were unharmed and are now staying with neighbours.
Fishermen's huts were also damaged at Rozel by high waves.
The Constable of St John, Phil Rondel, said the severe weather was expected to lead to more damage and honorary police were working hard to clear roads.
Jersey Police advised people not to travel unless they were confident in the conditions.
Transport and Technical Services has been gritting main roads since the early hours.
Ellen Littlechild from the department said: "The road conditions are slushy and there is fallen debris on the roads but certainly you can use those roads.
"We just ask that all road users take extreme caution when walking or driving on the road."