Farmers concerned about snow on Jersey Royal potato crop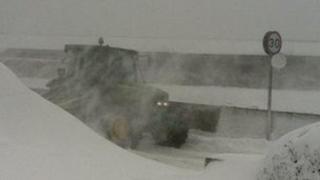 Farmers are concerned about the effect of heavy snow on the island's Jersey Royal potato crop.
William Church from the Jersey Royal Company said the weight of the snow and the cold snap could damage the crop.
He said the potatoes were already two weeks behind schedule after what he described as one of the wettest winters in 50 years in Jersey.
He said the early potato plants were also at risk of damage because of families sledging in the snow.
Mr Church is warning people to stay off the fields as they are trespassing and could be prosecuted.
He said: "We are just asking people to respect landowners and the farmers [who are] representing the island and exporting potatoes."
Mr Church said it could impact on an already difficult planting season.
He said planting had been more challenging. "There has also been a lot of periods of cold weather so the spuds that go in the ground obviously don't germinate and grow as quickly," he added.