Jersey couple trapped by tree after snow are named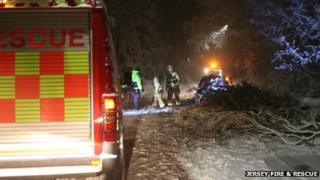 Jersey Rugby Club says its honorary treasurer and his wife were the couple injured when a tree fell on them on Monday night.
Adam and Glenda Budworth were walking home to St Brelade along the Railway Walk in heavy snow, blizzards and severe gales.
According to the rugby club, both suffered broken vertebrae.
Club Chairman Bill Dempsey said he visited them in hospital on Tuesday and they were in good spirits.
He said Mr Budworth was due to have spinal surgery in a UK hospital later this week and also had two broken toes, while his wife also suffered a double fracture to her lower left leg.
Mr Dempsey said: "It was a real shock to hear this news - we don't know whether to curse their bad luck over what happened, or be thankful that the consequences weren't even worse.
"Certainly the thoughts of everyone at the club is with them both as they begin what we hope will be a full recovery."
Emergency services had to saw through other fallen trees which had blocked the track.
Jersey General Hospital officials said the couple remained in hospital in a stable condition.
Mark le Cornu, from the Jersey Fire Service, said it was difficult getting them to the ambulance.
He said: "Luckily, the Transport and Technical Services chainsaw gang turned up as well so everybody was mucking in to get the ambulance out and the couple on their way to the hospital."