aMaizin' Adventure Park fined for oil spill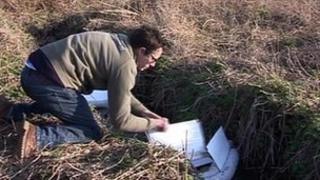 A Jersey business was fined £1,000 by the Magistrates' Court after pleading guilty to causing an oil spill.
The spill affected water in Val de La Mare reservoir and St Ouen's Pond.
The environment department said the aMaizin' Adventure Park had "significantly tightened up" procedures following the spill last year.
A spokesman for the park said it "deeply regrets this unfortunate incident for which we [have] accepted liability".
He said it was an unfortunate accident involving a member of staff.
"We take great pride in the environmental management of the Adventure Park and neighbouring area not only because we care about the island's environment, but as it is our business and our home."
Residual oil
Jersey's Environment Department said some fuel polluted the site of special interest at St Ouen's Pond, which is the largest area of naturally occurring water in Jersey.
Environmental Protection said the stream water and local eco-system was polluted and water quality went from good or excellent to poor.
A spokesman said water samples taken almost a year later still showed some residual oil in the stream bed, but it was now starting to recover.
The National Trust for Jersey said there had been no long-term impact on the plants and wildlife around the pond.
But Kate Roberts from Environmental Protection said: "Oils and fuels are damaging and persistent water pollutants that are difficult to clean up. Prevention is definitely better than cure."