Protecting Jersey vulnerable 'a priority', Bishop of Winchester says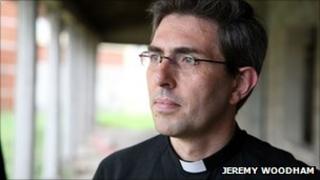 Protecting vulnerable people is a priority of the Anglican Church in Jersey, a bishop has said.
Bishop of Winchester Tim Dakin visited the island to speak to clergy after Jersey's dean was suspended over concerns about his handling of a complaint by a vulnerable woman.
The Very Reverend Bob Key had his commission withdrawn on 8 March.
Bishop Dakin said local churches were committed to diocese policies, including protecting those in need.
Bishop Dakin suspended Mr Key after an independent report to the diocese's Safeguarding Panel said there were failures in the implementation of key safeguarding policies in relation to the complaint.
The diocese is carrying out an investigation as a result.
The complaint in 2008 concerned the alleged abusive behaviour of a churchwarden.
During his visit on Saturday, the bishop said: "Jersey is part of the safeguarding policy of the diocese.
"We made a commitment to a policy that we promised we'd all share."
He refused to comment on what sanctions were open to him if the investigation found the dean did anything wrong in dealing with the complaint.
It is not yet known if the dean, who also has a non-voting seat in the States, will be able to take that seat when it next sits on 19 March.
Mr Key has not been available for comment.