Jersey politician suggests States seats reserved for women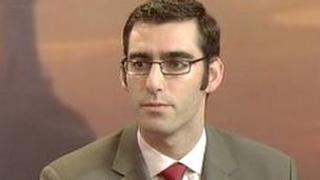 Reserving seats for women in Jersey's next election may help overcome the gender bias in the States, a Deputy has said.
Deputy Montfort Tadier said April's referendum is a great opportunity to encourage more women into government.
The referendum sets three questions over how the island's government is made up in future.
He said seats could be allocated as women only if islanders agreed to create larger political districts.
But Deputy Kristina Moore, first elected in 2011, said: "We have the same percentage of women as the UK, and thankfully our male colleagues treat us with much more respect than their counterparts."
'Cost of childcare'
Deputy Tadier, who is vice chairman of the privileges and procedures committee, said he was concerned not enough women stood for the States and he wanted to see more in the chamber.
He said: "Women make up half of the population in Jersey as you might expect but that is not the case in our parliamentary assembly - at the moment it is around 20%.
"This is just an idea at the moment but if we go to larger districts of either five or seven seats that gives us an opportunity to entice more women to stand."
The States of Jersey is currently made up of three types of politician: Constables elected by their parish, Senators elected by the island and Deputies elected in a small district.
Three of the 12 constables, one of the 10 senators and eight of the 29 deputies are women.
Health Minister Deputy Anne Pryke is the only female politician to hold a ministerial position. Four of the 14 assistant ministers are women.
Juliet Karugahe, from the Jersey Community Relations Trust, said equality was not high on the agenda in Jersey.
"The number of women in the assembly has remained low for many years and it isn't just in politics, it is across sectors," she said.
"The cost of childcare in Jersey is very, very high and that prevents a lot of women from pursuing their careers."