Jersey politician wants a 'living wage' for island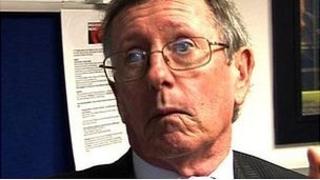 Jersey needs a higher minimum wage to stop people on low incomes being subsidised by the States, says an island politician.
Deputy Geoff Southern wants to see the introduction of a "living wage", to resolve the problem.
He said it would be voluntary however, with businesses not forced to offer it.
The UK minimum wage is £6.19 per hour, with the exception of London where it is £8.55. Jersey's minimum wage is currently £6.48 per hour.
Mr Southern believes Jersey should adopt London's approach and introduce a minimum wage which reflects the cost of living.
He said: "I believe you should be able to live adequately for a family on a normal wage, that is a reality."
'Most vulnerable'
Malcolm Ferry, of Jersey's citizens advice bureau, said most workers were already on a liveable wage, although some are topped up on benefits.
He said he thinks a living wage would damage some industries.
"It would be argued that most employers in Jersey offer a living wage, there are only a couple of thousand workers on a minimum wage and they are the most vulnerable in society," he said.
"Those people generally speaking are in industries key to our economic growth and if any living wage was brought in that increased the demands on their outgoings it would knock the balance out of kilter," he said.
David Warr, Chairman of the Jersey Chamber of Commerce said that in some cases it was a good idea to pay a living wage.
He said it was something that an ethical business that wanted to be fair to staff should consider.
He said: "You have to bear in mind there are a lot of other bits and pieces, it isn't just about the rates of pay this person is paid.
"If you go up does that mean other benefits are stopped so you can pay £8 something an hour?
"The problem is can your business sustain the living wage rate per hour, I would suggest if you want a quality of staff member you will pay a living wage."