Jersey could be energy self-sufficient 'in a decade'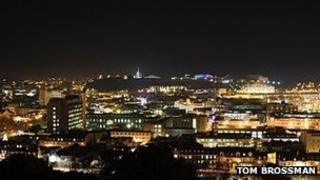 Jersey could become energy self-sufficient within about 10 years, according to the Environment Minister.
Deputy Rob Duhamel said that generating electricity using tides could provide the island with cheaper power.
The minister wants to invest in renewable energy such as tidal turbines to avoid relying on importing electricity from France.
But some doubt the impact, with one island-based marine biologist calling the technology "experimental".
He said progress had been made towards self-sufficiency in the past few months.
Deputy Duhamel said: "I think it is reasonable to say the islands can be self sufficient within a decade or so."
It is thought a project on a scale to power the whole island would cost tens of millions of pounds but Deputy Duhamel thinks it would be worth the investment.
He said: "The island's cable got broken last year and there was not enough electricity to go around so the lights went out.
"If we can find enough electricity from renewable so we don't rely on these cables that is worthwhile."
Nic Jouault, a marine biologist with the Societe Jersiais disagreed with the economic benefits of an "experimental technology".
He said: "I don't think in terms of fish it is that much of an issue, it would need to be well placed, and they will exclude fishing from around the area.
"The fisherman are up in arms about them because it will restrict their fishing.
"It is the economics of it. I can't understand how Jersey can go into experimental technology - solar and wind power are the more established routes."
Jersey's energy plan aims to reduce greenhouse gas emissions by 80% by 2050.
A commission launched by the Environment Department is exploring the potential for this type of energy in Jersey.
Louise Magris, the director of environmental policy, said Jersey had valuable sea and wind resources that could be harnessed.