Jersey bus company scraps through route from airport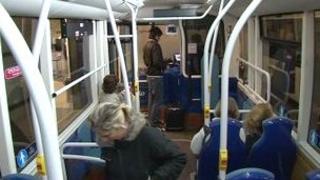 A route linking Jersey's airport in the west to Le Marais estate in the east is being scrapped by bus company CT Plus.
The route was a major feature of the new timetable launched by the company when they took over the service in January.
A spokesman for the company said they could not make it work without regular delays.
It will now be split into route 15 from airport to St Helier and 16 from Le Marais to St Helier.
The change will come in as part of a the new spring timetable that launches on 31 March.
Frequent delays
A spokesman said: "What the change will mean in practice is a much more reliable/punctual service on both legs, as the current routes through the centre of town frequently led to delays."
CT Plus said the long-term plan was to be able to reinstate the route.
The company is also introducing several routes for tourists ahead of the summer season.
The new routes include extra services connecting St Helier with St Brelade's Bay and Corbiere.
More services in the northern parishes are also part of the new timetable with more buses serving St Mary's Village, La Mare Estate, Trinity Church and St John's Village.
A new peak period express service operating one morning and one evening journey every weekday is also planned which links Corbiere with La Moye, Red Houses, Don Farm, the Aero Club, Beaumont Hill, and operating to St Helier via Victoria Avenue.
Liberty Bus and Jersey's transport department are making the changes following feedback from bus users since the new service launched in January.