Jersey agrees to UK tax exchange agreement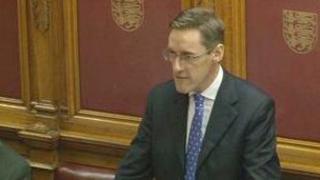 Jersey has agreed new tax measures that will see the finance industry share more information with UK authorities.
The deal will allow UK officials more access to the details of Jersey-based accounts.
Chief Minister, Senator Ian Gorst said it was time the island signed up to measures the UK adopted from the US.
Jersey is the last of the crown dependencies to sign up following both Guernsey and the Isle of Man.
The UK has followed the US in introducing a Foreign Account Tax Compliance Act (FATCA) law.
The Isle of Man became the first jurisdiction to commit to UK FATCA on 7 December, last year. Guernsey's is "nearly finalised" according to the island's chief minister Deputy Peter Harwood.
Senator Gorst said the goal of the American law was to limit the evasion of US tax. He said it would place reporting requirements on non-USA financial institutions.
'Degree of certainty'
He said the finance industry in Jersey had made it clear they wanted the States to enter into this agreement with the USA, but the UK government said it expected a similar deal from Jersey.
"They found it difficult to accept that we would be giving more information to the US than to the UK in the fight against tax evasion," he said.
Commenting on the deal, Heather Bestwick, Deputy CEO of Jersey Finance, said it offered a certainty to the finance industry.
She said: "One of the key benefits of this announcement is the degree of certainty that it offers the industry and our focus from this point forward will be to continue to work closely with government on the detail of each element."
Richard Murphy, of Tax Research UK, said this was a small step but that Jersey still had a long way to go to become fair and transparent.
"Jersey has had no choice, the UK said take it or leave, you must not give the US information you won't share with us and this is Jersey caving in to demands," he said.
"This does not put Jersey in a position of saying we have done everything demanded of us, they have not. The fact they will have automatic information exchange with the UK and USA does not change the position that Germany, Italy, Russia and more can't get this information.
"When Jersey does automatic information exchange with all countries and when Jersey requires information with regards to trusts and companies put on public records then I will be happy."