Jersey planning minister 'will not reopen' Plemont inquiry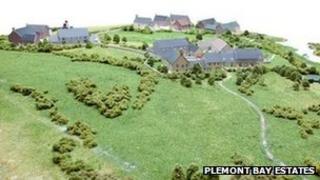 Jersey's planning minister Deputy Rob Duhamel says he will not reopen an inquiry into the planning application for the former Pontins site at Plemont.
The head of the Council for the Protection of Jersey Heritage wrote to the minister saying he wanted the public inquiry to be revisited.
Maurice Dubras claimed the resulting independent report was "flawed".
Jersey's Chief Minister lost the vote for the States to buy the site by compulsory purchase.
Members voted against the plan by 25 votes to 24.
In November owner Plemont Bay Estates were given planning permission for 28 homes and the return of 80% of the site to nature.
'Difference of opinion'
Mr Dubras said the planning permission was in direct contravention of the planning law.
In a letter to Mr Dubras, Deputy Duhamel, said it was clear he had a difference of opinion in the decision, but it was not sufficient justification to reopen the inquiry.
Mr Dubras said: "The one page reply to a detailed six-page annexe to our letter, setting out our serious concerns and challenge to the recommendations of the inspector and the consequential ministerial decision, is a great disappointment.
"We detailed our concerns and belief that the inspector made serious errors, both substantive and procedural which in turn we believe led the minister to make errors in his decision."
He added he urged the minister to meet with them to discuss their concerns.
But Deputy Duhamel said he had taken advice on the matter and considered the points Mr Dubras had raised in some depth.