Jersey and Guernsey States work together on pet travel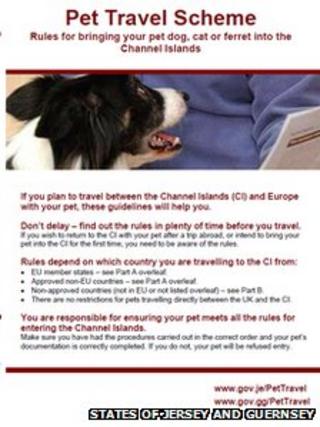 Jersey and Guernsey's States have cooperated to publish new rules for people travelling with pets.
They have produced a leaflet explaining the steps owners need to take.
Recently the two islands worked together on posters about rabies prevention and the importation of animal products.
The new leaflet explains how pet owners can get a pet passport for their dog, cat or ferret, and has advice on microchips and disease prevention.
Linda Lowseck, Jersey's States Vet, said both governments want to make sure people who travel with their pets follow the right procedures.
"It makes sense to work together wherever possible, we're all aiming for the same outcome," she said.
"I imagine this is only the beginning and there will be many other opportunities for us to join forces."
She said they had worked well together on earlier projects and both authorities agreed it would be a good idea to share resources and expertise again.
The leaflet is available from most vets, pet shops, airlines and ferry companies approved to carry pets.