Islanders in Jersey need to be encouraged to vote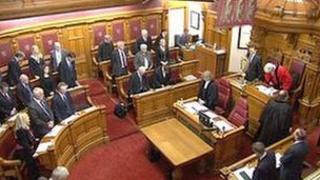 More needs to be done to encourage voting in Jersey after a study showed it had a poor record for voter turnout.
Deputy Roy Le Herissier, who has campaigned for political change, said it was time Jersey had a system that worked.
The Better Life Index, published by the States Statistics Unit, compared Jersey's living standards with countries around the world.
It showed fewer people vote in Jersey than in Mexico, Russia and Korea.
Islanders will next go to the polls in a few weeks for a referendum to choose if they want Jersey's government to change.
Deputy Le Herissier said he did not want the exercise to be another example of political apathy in Jersey.
He said: "There are still a lot of people out there saying [they] haven't heard about it and there are even more saying [they] don't understand the issues.
"So we have got an uphill fight and let's hope a lot of resources are put into this because this could be a turning point in Jersey."
The referendum choices include two options for change and one to maintain the status quo.
Option A will see 42 deputies elected from six large voting districts.
Option B will have 30 deputies elected from six districts and 12 parish constables.
Option C will maintain the status quo of eight senators elected island wide, 29 deputies in a range of constituency sizes and 12 parish constables.
The closing date to register to vote is 3 April, and the referendum will be held on Wednesday 24 April.