Jersey abuse complaint: Church inquiry into safeguarding controls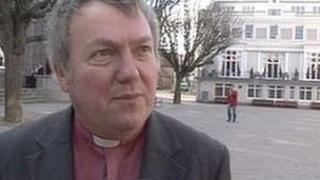 An inquiry into how Anglican churches in Jersey protect vulnerable people has begun.
It follows the suspension of the island's dean over claims he mishandled an abuse complaint made in 2008.
The Bishop of Winchester Tim Dakin ordered the independent inquiry be carried out.
It will consider the implementation of safeguarding in Jersey and across the Diocese, and provide recommendations for enhancing policies and procedures.
The inquiry will also investigate the findings of the recently published Korris Review, which raised concerns about how a safeguarding complaint from 2008 was handled.
The Right Reverend John Gladwin, the former Bishop of Chelmsford, will lead the review and will be joined by the Venerable Norman Russell, Archdeacon of Berkshire, and a senior UK lawyer.
'Widening split'
The Right Reverend Gladwin said: "The commitment to the safeguarding of children and vulnerable adults is fundamental to the mission of the Church.
"It is crucial that we have a culture of safeguarding ingrained, strong policies which reflect that and a practice of good implementation."
Jersey's Anglican Dean, the Very Reverend Bob Key, has been signed off with stress since his suspension, but has announced plans to attend an Easter service at St Mark's Church on Sunday.
Some Anglicans in the island have petitioned the Archbishop of Canterbury to step in over concerns the incident could lead to a widening split in the church.