Sir Philip Bailhache writes to archbishop over dean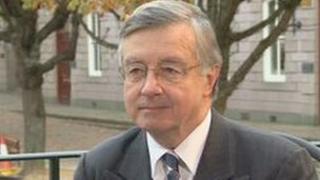 Jersey's assistant chief minister is calling on the Archbishop of Canterbury to intervene following the suspension of the island's dean.
The Bishop of Winchester withdrew the Very Reverend Bob Key's commission following a review which claimed he mishandled an abuse complaint in 2008.
Senator Sir Philip Bailhache wrote to the Most Reverend Justin Welby questioning the fairness of the review.
The Diocese of Winchester declined to comment.
The review investigated how a claim of abusive behaviour by a churchwarden was dealt with by the dean, and found he had mishandled the complaint.
Senator Bailhache, a former bailiff, has urged the archbishop to help resolve the situation.
He said: "I am hoping the archbishop will interest himself personally in what is threatening to become a very damaging dispute between the Diocese of Winchester and Jersey.
"The bishop has his responsibilities but the archbishop has overall responsibility for the Church of England and I hope he will be sufficiently moved to take an interest in what is happening."
New investigation
In his letter to the archbishop, he raises concerns about how the review was conducted and says the removal of the dean's commission seemed disproportionate to any alleged failings, which related to procedural omissions and not misconduct.
The Bishop of Winchester Tim Dakin has since launched a new investigation, led by former bishop John Gladwin, to review the implementation of safeguarding in Jersey and across the diocese.
It aims to provide recommendations for enhancing policies and procedures.
It will look at how vulnerable people are looked after, how appointments are made, how clergy are disciplined and how the deanery is governed.
Archbishop Welby said: "I wholeheartedly support the investigation that the bishop has launched. He must receive full co-operation from all involved.
"We cannot place a high enough importance on safeguarding issues and it is vital that lessons are learned from this case, not just in Jersey but throughout the whole of the Church of England."
The Very Reverend Bob Key has been signed off with stress since his suspension.