Jersey referendum taxpayers' money request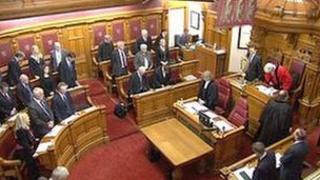 Jersey's treasury minister is being asked to approve £5,000 of taxpayers' money to be given to each of the campaign groups involved in the referendum.
Senator Lyndon Farnham from the Option C campaign has written to the treasury minister asking for the cash.
He also wants a spending cap of £10,000 for all the campaign groups.
The Treasury and Resources Minister, Senator Philip Ozouf, said he was looking into the idea.
'Importance of referendum'
In an email to Mr Ozouf, Mr Farnham said to "ensure a fair and balanced campaign, an equal and appropriate amount of funding" should be made available to each group.
He added: "I have suggested a cap of £10,000 on campaign spending based on the amount allowed for a senatorial campaign, plus a little bit extra given the importance of the referendum."
The referendum choices include two options for change and one to maintain the status quo.
Option A will see 42 deputies elected from six large voting districts.
Option B will have 30 deputies elected from six districts and 12 parish constables.
Option C will maintain the status quo of eight senators elected island wide, 29 deputies in a range of constituency sizes and 12 parish constables.
The closing date to register to vote is 3 April, and the referendum will be held on Wednesday 24 April.