Jersey Territorial Army reservists 'need job protection'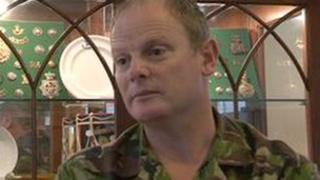 Army reservists in Jersey need to have the same job protection as those in the UK, according to the head of the island's Territorial Army unit.
In the UK the Safeguarding Employment Act protects the jobs of reservists while they are deployed overseas.
Maj Nick Spratley said the lack of a similar law in Jersey meant reservists who are deployed may find themselves unemployed when they return.
He said it was an issue that was undermining recruitment efforts.
Maj Spratley said the Jersey Field Squadron, which is part of the Royal Monmouthshire Royal Engineers (Militia), currently had about 60% of its total personnel of 89.
More than 45 personnel have been deployed since it reformed in 1988.
He said any employment protection would also affect those residents of the island who serve with the reserves for the Royal Navy and Royal Air Force and the national Territorial Army units, which are separate to the island's squadron.
Maj Spratley said the men and women who risk their lives for their country deserved financial security.
He said: "I think we need to make sure our reservists have the same rights as their counterparts in the UK."
Representatives from the TA are due to meet civil servants next week to discuss the issue.
The island's home affairs minister said he was currently looking at introducing some form of legislation to help the reservists.