Jersey breeders to be given exemption to collect ormers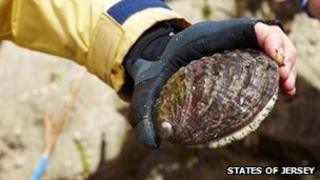 The commercial breeding of ormers in Jersey has come a step closer with a ministerial order to redraft legislation on their collection.
The marine mollusc, known as abalone in some countries, is rare in UK waters but common around the Channel Islands.
Currently they can only be collected at certain low tides and also for strictly controlled scientific purposes.
The change would allow ormers to be bred commercially and would relax strict guidelines on their sale.
It is not yet known when the law redraft will be completed or when it is due to come into force.
Successful breeding trials have been completed and the new law should allow up to 30 adult ormers to be used as breed stock at any one time.
Jonathan Shrives, the marine scientist at the Environment Department, said: "Previously, there's only been a scientific exemption, which was to allow people to see if they can get the process to work and to see if they could breed the ormers... they've been successful.
"[Now] they'd like to sell the baby ormers they've raised... and that would require some changes to the law."
The commercial exemption will allow adult ormers to be collected and returned alive under the supervision of fisheries officers.