Jersey reform referendum: Pre-poll voting begins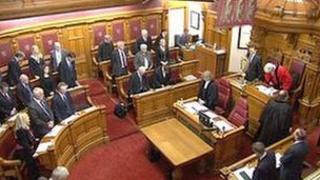 Islanders have begun pre-poll and postal voting for the Jersey referendum on electoral reform.
Voters can make their choices from three options to reform the States of Jersey at St Paul's Centre in St Helier or by post.
The pre-poll voting opened on Monday ahead of the referendum on 24 April.
The votes will be counted using an average voting system that allows second votes to be counted if a clear winner is not found in the first count.
The referendum choices include two options for change and one to maintain the status quo.
Option A will see 42 deputies elected from six large voting districts.
Option B will have 30 deputies elected from six districts and 12 parish constables.
Option C will maintain the status quo of eight senators elected island wide, 29 deputies in a range of constituency sizes and 12 parish constables.