Gorilla born at Jersey's Durrell wildlife park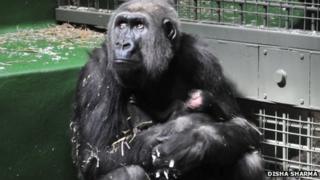 A gorilla has been born at Jersey's Durrell wildlife park, the second great ape birth there in a week.
Bahasha gave birth on Monday in the outside enclosure, a week after Jantho, an orangutan was born.
The baby is Bahasha's first birth and keepers at the park said this carried risks to the infant due to her inexperience as a mother.
It is the second gorilla to be fathered by silverback Badongo. Indigo was born in September to Hlala Kahilli.
Before that it was nearly a decade since a gorilla was born at Durrell, as Hlala Kahilli was the last gorilla to give birth in 2003.
A spokesman for Durrell said it was hoped Bahasha had received some baby care tips from the more experienced mother Hlala Kahilli.
'Early days'
Badongo was brought to Durrell in 2011 to replace Ya Kwanza who had not bred in eight years.
Ya Kwanza was rehomed to Zoo d'Amneville in France in 2011 and is now heading up a bachelor group there.
Keepers said they did not yet know the sex of the new arrival.
Mark Brayshaw, head of animal collections at Durrell, said keepers and veterinary staff were monitoring developments in the "critical" first few days.
He said: "So far all is well but it is early days and we are keeping a close eye on mum Bahasha and the new arrival.
"Hopefully the baby will thrive and become a fantastic half brother or sister for Indigo."