Jersey's public entertainment rules to be reviewed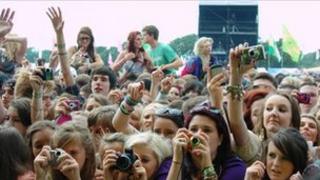 The need for Jersey's Bailiff to grant permission for concerts and fetes is to be reviewed again by a panel of politicians.
Currently, people need to apply for the Bailiff's approval to hold public entertainment in Jersey.
As the current rules come up for their three yearly renewal, the Education and Home Affairs Scrutiny Panel said it planned to review the system.
It said wanted to review the licensing of public entertainment.
The rules, introduced in 1992, mean it is an offence to hold public entertainment without the permission of the Bailiff. A past review questioned how public entertainment should be defined.
In 2007, it was reviewed by the then Legislation Committee who found it was no longer appropriate for the Bailiff to control events.
In his proposal, Senator Le Marquand said: "It later emerged an alternative means of licensing entertainment would be costly and entail substantial law drafting, for which time was not available."
He said when the regulations were last brought back to the States in 2010, members were largely in agreement the current system worked well and there was no need to change the system.
The States will debate the renewal of the laws on 4 June.