Wet weather causes a rise in landslips in Jersey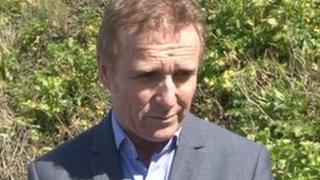 Wet and wintery weather has caused a rise in landslips in Jersey, according to the transport department.
Chris Sampson from Transport and Technical Services said rain and snow had made the problem worse than normal.
He said usually there is one in a winter but for the past few months there have been up to 25.
He said it meant the government and landowners in Jersey are having to go through often lengthy and costly processes to clear them.
"It is our job to make those roads safe and then we have got to find the landowners," Mr Sampson added.
"They have got to contact their insurers and arrange the repairs and that can be sometimes quite lengthy."
'Too dangerous'
Mr Sampson said his teams have been helping with some of the work clearing landslides which started on private land but ended up on public roads.
Bob Tompkins, a walking guide for the National Trust for Jersey, said a path near St Catherine has been closed as it is too dangerous to use.
He said the clay soil had absorbed recent rain and snow, making it more unstable.
He said: "It is a very popular area for walking.
"We have to bring people along the road, rather than the coastal area itself which is a shame because it is a particularly picturesque area and people are really missing out."